Working In Schools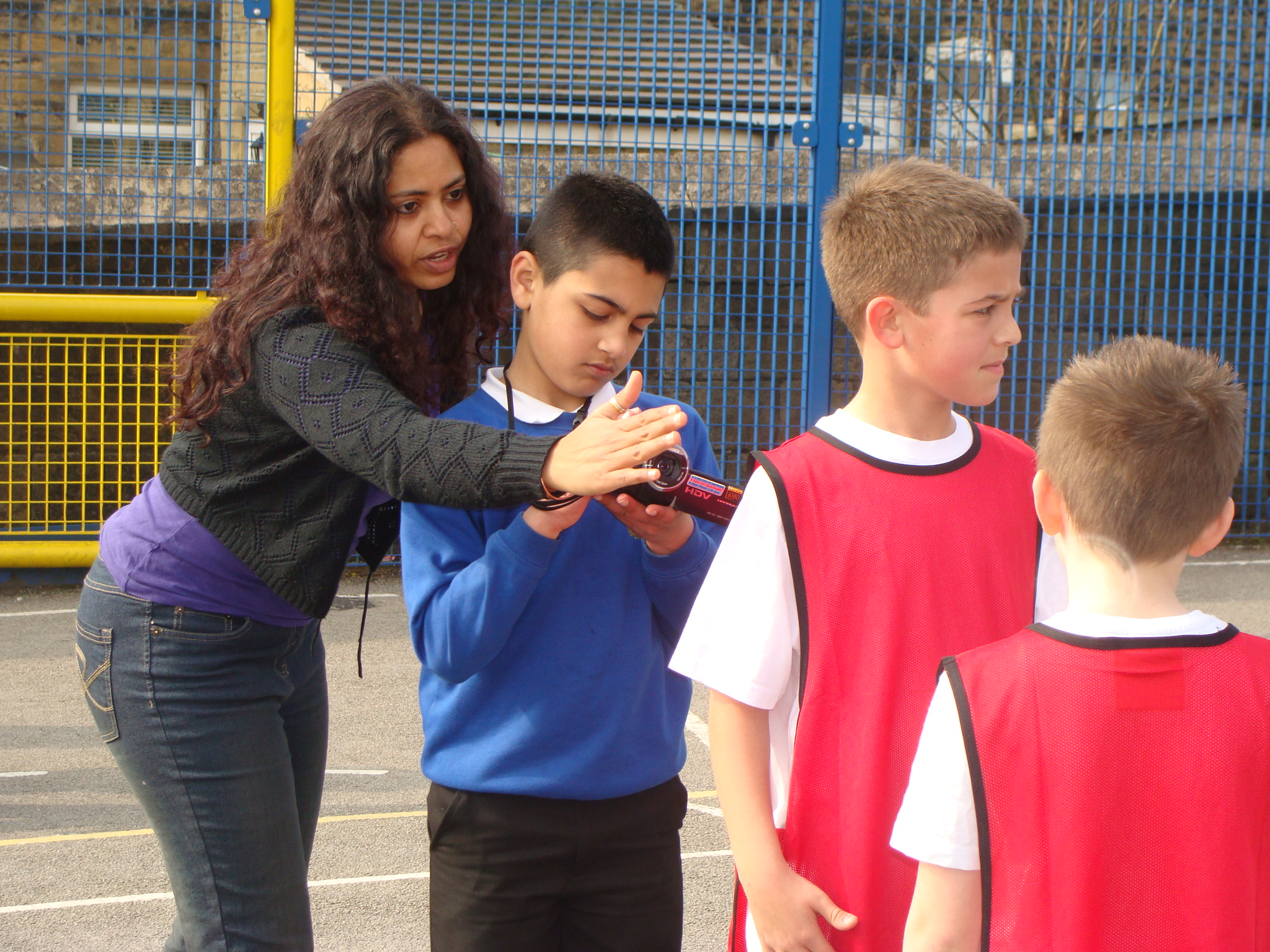 Feedback from schools
"The support we have had in film-making from Shyla has been excellent. She ably led and directed our students in making a film for parents about our school. The children, under her direction, enthusiastically learnt many new skills. They simply loved the experience.
For the school we now have an amazing dvd to show new parents. The children learnt many things, from planning, shooting and appealing to an audience. This is something we definitely want to do in school regularly. We loudly applaud Shyla."
Andrew Neal : Head teacher : Holycroft Primary School
"Shyla provided a unique learning opportunity for the children to explore all aspects of film making. She encouraged them to use the cameras effectively, write an original script, develop the characters, select the actors and film the story.
The children were actively involved in the entire process and accepted the opportunity with much enthusiasm. The school community viewed the film and all were impressed by the professional standard.
The parents were very proud of the success of the film and the achievements of their children. This was an amazing opportunity and the children look forward to working on any future film projects."
E. Kilcoyne : V. Chair Governors / Chair Curriculum Committee: St Anne's Primary School
The aims and benefits of film in education
"Film is an inclusive medium, accessible to students of diverse learning styles, experiences and needs by virtue of it's rich variety of visual and auditory content"The British Film Institute.
In our experience the making of a short film stimulates enthusiasm and creative impulses beyond the reach of traditional learning.
And it is particularly beneficial to students with special needs, poor literacy skills or attention deficiancy.
What we offer
We offer two types of training:
A short-film Project.
This is training that works towards the making of a short film. The subject can be anything that the children are passionate about.
Typically there will be around 6 2-hour contacts with the children. Initially developing ideas and then producing the film.
The children will do all the camera and sound work and will be introduced, and take-part in, the writing and directing of the film.As the editing process is more involved this is typically done off site after working with the children.
Film-Club
This involves on-going contact and may last for a term or a year.It too works towards the making of a film but would explore in more depth the different facets of film-making.This could involve the students completing several short-projects or it could offer the scope for a larger production.
In either case the requirments of the training will be discussed, tailored and agreed between both parties prior to the training. This will enable educationalists to address specific themes or skills within the student's work.
How it fits into the curriculum
It develops literacy skills; both journalistic and storytelling.
It develops speaking and listening skills.
It involves ICT skills through the use of video, sound and editing software.
It offers a multi-sensory approach to learning.
It can allow children who perform poorly in traditional areas of learning to excel.
It holds children's attention.
It allows children to develop ideas through planning and the sequencing of events.
Watch the films
| | |
| --- | --- |
| Should I Tell? | |
| | Children from Long Lee School in Keighley develop a drama about bullying. |
| | |
| --- | --- |
| Fade Out | |
| | Children from St Josephs School in Keighley develop a drama about healthy eating. |
| | |
| --- | --- |
| Absence | |
| | Children from St Annes School Keighley develop a drama about alchohol abuse. |
| | |
| --- | --- |
| Child Line | |
| | Children from St Andrews School (Year 5) Keighley develop a drama about bullying. |
| | |
| --- | --- |
| Captain Crisis | |
| | Children from St Andrews School (Film Club) Keighley develop a drama about bullying. |
What you can do next
If you think film-making could enrich the life of your school and develop your students then please get in touch to arrange an informal meeting.
eMail: contact@clayhouse.co.uk
We can provide you with costs for training, but we will always show a flexible approach to fitting-in with a school's budget.